Horticulture
Fogging equipment
We are world leader in the field of fogging disinfectants and pest control. With a range of 5 different fogging techniques we are able to custom fit a machine for your unique application. With our customer-oriented approach we are able to fit our (fogging) machines to your needs. Because of our wide range of techniques and the ability to 100% customize our machines, we can provide you with a tailored solution unlike any other.
We are continuously improving our existing machines as well as developing new machines and techniques to suit the needs of our customers. The development is done in cooperation with clients, suppliers of chemicals or biologicals and institutes / universities. With our own droplet size measurement laser and engineering we are able to develop a wide range of machines all under one roof.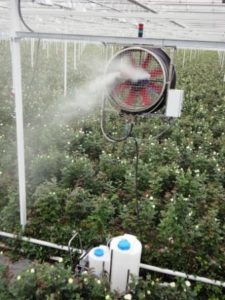 industrial hygiene in greenhouses
For a long time the focus of horticulture has been on the inside of greenhouses. But the last few years more people have become open to the idea that most problems in the greenhouse start outside of the greenhouse. To counter this, various measures have been taken: more windows are being fitted with insect screens, and good hygiene solutions are needed to keep viruses, bacteria and fungi out.
Our fogging machines can also help with the hygiene in your greenhouse.
But also in logistical junctions like the sorting area, packing stations, canteens and offices are the greatest sources of crosscontamination and the place of origin of invisible threats.
Please read the article Growers, don't get virus tired. About the still current tomato virus, ToBRFV. The article is published in Dutch.
So it's easy to understand that it is essential to take on hygiene as a whole. Contact us for advice on your situation.
Cleaning detergents
A complete range of cleaning products for every type of pollution, all kinds of materials, and any method is available from stock.
Soaking and cleaning, tarnish or dirt? Let us advise you on the best solution for your problem. We have selected the best cleaning detergents for you under the names: Cleanbest and Desbest.
Crop protection through (thermal) misting
Fogging is thermal misting with gasoline. The Pulsfog range is a strong player in the field of fogging. ULV means 'Ultra low Volume misting' and is cold mist. It is done by compressed air or vacuum pump. These techniques have different benefits. You can read all about them here. One of the largest ULV foggers we have is the Halofog. Check out our case of the Halofogs in a rose nursery here. Not sure what is best for your situation? Let's have a chat, free of cost.
Hygiene sluices
We also sell all supplies needed for furnishing hygiene sluices. From dispensers to paper to dry hands and boots. Everything has been selected for safety and efficiency. Not all of these products are currently on the website, so contact us for personal advise about routing or a made-to-measure hygiene sluice package. Take a look at our page about hygiene sluices for an overview.
The benefits
Years of experience
Own R&D
Multiple techniques available

More information?